Fern Furnishing is a family run business that started way back in 1969 and now spans across 3 generations of the Chapman family. From our state of the art factory showroom based in Bradford we have been manufacturing and fitting all our own bedroom furniture for over 40 years. As we manufacture all our furniture, we can make any unit, any size, for any space or purpose, in any of the styles and colours we offer. At Fern Furnishing we pride ourselves on our high quality furniture, customer service, and also take great pride in the fact we do not advertise, around 80% of our work is based on recommendations.
At Fern Furnishing we firmly believe that every piece of furniture we manufacture and fit should last for at least 25 years. Everything we design and create will reflect our workmanship, expertise and dedication for years to come. We pride ourselves on our furniture and it's with this pride, the heavy investment in up to date technology and high spec machinery we can call ourselves The Fitted Bedroom Specialists.
---
Company History
In 1934 James and Rose Ellison (my Great Grandparents) purchased 5 Fern Place in Saltaire and began trading as Fern Fisheries they were known locally as the only fish & chip shop with a coal fired unit. The shop was open until the late 1950's when James had to close the shop to care for his father. After the sudden death of Rose's father in 1969, her and her daughter Irene Chapman (My Grandma) founded Fern Furnishing and re-opened the shop.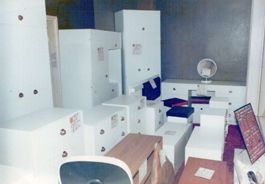 They started selling second hand furniture bought from auctions using the £1000 Irene and Jack (my Grandma & Granddad) had in their savings, it was this investment that launched the business. They soon started buying transit-damaged furniture from manufacturers which Granddad and John (my Dad) repaired at the family home in the garage for re-sale at half the price. This soon took off and meant John became full time staff burning the midnight oil to keep up with the demand (and he still is 43 years later). Granddad was still working for the gas board by day, and for Grandma at night, but this didn't last for long, as he joined the firm full time. As stock grew, in 1975 they moved from a double garage to a 2000 sq ft rented warehouse in Shipley. Soon after, they rented the unit next door as they needed the extra space.
In 1976 Ian (my Uncle, or has he would say, the good looking one) left school and joined the family business. As all good things come too an end, so did the transit-damaged furniture. As they had been retailing mainly seconds from ex–catalogue stock the main stay of the business had become bedroom furniture. From here they started buying new furniture from local manufacturers, but soon got let down with poor deliveries and poor build quality. After many problems with bought-in goods they constructed a make shift circular saw at the Shipley warehouse and put all the knowledge together that they had acquired over the years in repairing furniture, to start manufacturing their own.
Selling alongside the bought–in furniture, customers were happy to pay a little extra for the self manufactured furniture. This gave the company the incentive to invest in bigger machinery and expand the manufacturing side to produce a full range of freestanding bedroom furniture. As years past the fitted furniture started to gain popularity, the demand for freestanding started to drop, so the decision was made to enter into the fitted kitchen market. Running along side the bedroom furniture, the kitchens sold well and with it came more investment in machinery and staff. John S (Ian's Brother-In-Law) joined the company and worked with Ian fitting the kitchens.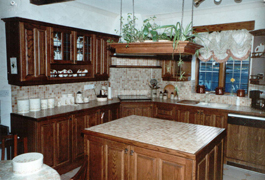 After several years fitting kitchens, more and more people started requesting their bedrooms to be fitted. In 1992 the decision was made to leave the very labour intensive kitchen market and concentrate fully on the bedrooms. A showroom was needed to display the large range of fitted bedroom furniture and so started the hunt to buy a large factory showroom. In 1993 the company moved into our present factory in Eccleshill, Bradford and promptly converted the large office space of the factory into showrooms. Sadly in May of the same year we lost Granddad Jack whose claim to fame was he slept with the boss! Once open, the showroom soon started to bring in the work and with it, even more investment into the latest machinery and a new generation of staff. Steve joined us in 1994 and has become a permanent fixture, even though he is not part of the family, we consider him one of us.
In 2006 Dan (Me, John's Son) and Phil (Ian's Son) joined the company. Phil took on the vinyl pressing and working in the factory, while I took on the challenge of fitting. Mainly working with John S, but due to illness I now work alongside my Uncle Ian. Learning the day-to-day skills, tricks of the trade and always questioning why I never get to stand around and do the "customer relations" side of the job… as Ian tells me… 'You don't have a dog and bark yourself Dan.'
Unfortunately due to ill health Irene Chapman (Gran) retired in January 2013.
Sadly in June 2014 she peacefully passed away, now leaving us to carry on the family business she founded.
Daniel & Ian Chapman
October 2012 - Updated August 2014